Hoi An chicken rice - famous specialty of Hoi town in Quang
Besides Cao Lau and bread, Hoi An chicken rice is a dish that anyone who comes here should try at least once to feel the delicious taste of the famous specialty of Quang Nam.
Origin of Hoi An Chicken Rice
Hoi An chicken rice is a dish dating back to the 50s of the last century (circa 1950) in Hoi An, Quang Nam. It is known that the land of Tam Ky, Quang Nam is famous for delicious chicken, so the chicken rice dish originated here. Then, with their creativity, the people of Hoi An took advantage of the delicious chicken from Tam Ky to make Chicken Rice with the characteristics of the ancient Hoi An town.
In the past, chicken rice was sold in every corner of Hoi An, later people opened many rice restaurants to serve tourists from far and near. Over the years, until now, Hoi An Chicken Rice is a food that has been granted a geographical indication certificate when coming to Hoi An, Quang Nam tourism.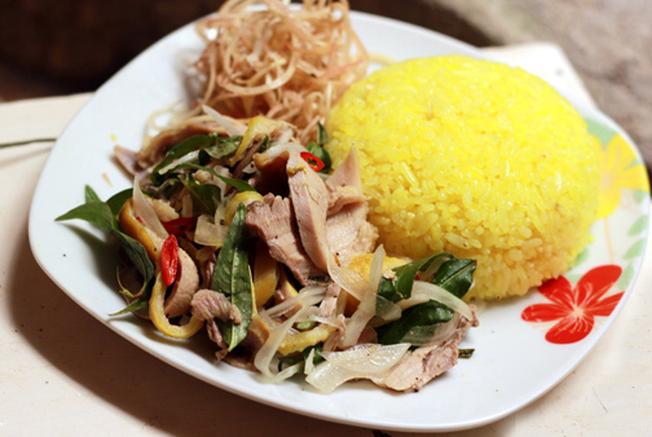 The speciality of Hoi An chicken rice
It can be said that anyone who comes to the old town without enjoying the famous Hoi An chicken rice dish is considered to have not fully experienced the cuisine of this central land.
If Hue cuisine is known for its sophistication and elegance with countless dishes that are both beautiful and delicious and prepared in an elegant royal style, Western cuisine captures the hearts of many people because of its sweet taste. Sweet and close, the cuisine of Hoi An in particular and of Quang in general is unmistakable because of the rustic, idyllic but rich flavor that is hidden in each dish.
Indeed, Hoi An chicken rice is loved by many diners because one finds the soul of Quang in each ingredient that makes it.
Another highlight of Hoi An chicken rice is that diners always feel a very unique taste when eating, not confused with any chicken rice dishes in other places because of the salty, spicy flavor typical for regional cuisine. Central.
Why is Hoi An chicken rice so attractive to diners?
Hoi An chicken rice is made from two main ingredients: chicken and rice. The rice used to cook chicken rice is usually a delicious rice from the sunny and windy Central region of Vietnam, but full of aromatic flavor. After washing, the rice is cooked with chicken broth and pandan leaves by a wood stove to make the seeds soft and fragrant.
Hoi An chicken rice is served with a very eye-catching golden color. Photo: dulichluhanh
The remaining important ingredients of Hoi An delicacies are young or free-range chickens because they will produce firm but soft meat, not friable, with golden skin. When the chicken is boiled, it is torn and crushed with onions, fried onions, salt and laksa leaves. Finally, the broth is added with turmeric and gac to create color, making the rice plate even more attractive.
In addition to the selection of ingredients, the way to cook chicken rice also requires the chef to be both skillful and meticulous. Clean chicken needs to be boiled for just the right amount of time so that it doesn't become too soft or chewy and lose its flavor. Immediately after the chicken is cooked, the chicken must be taken out, allowed to cool and then quickly boned.
Then let this bone simmer in the broth to create a sweet and fragrant taste. After soaking the turmeric, the rice is washed and cooked in broth with chicken fat. This stage must be properly souped so that the fat melts and the rice is cooked, fresh and more fragrant.
A plate of Hoi An chicken rice in the right style must meet all the conditions, the part of rice is flexible and fragrant; The chicken is soft, moderately greasy, the chicken heart is very flavorful, and there is also a crunchy, sour papaya mixed with spicy, bitter laksa leaves and definitely a little spicy chili sauce. All contribute to the delicious dishes of the Central region, making diners unable to help but feel nostalgic.
Mr. Nguyen Thai, chef of Tasty Hoi An restaurant shared that. He is a Northerner who came to Hoi An to cook chicken rice in the style of Hoi town. He spent 4 years in a row just in Quang Nam learning how to make this Hoi An chicken rice dish.
The more he did it, the more he liked it and felt that the dish was not only familiar, it also contained the cultural beauty of Central Vietnam. After many years working at Hoi An restaurants, Mr. Thai returned to Hanoi to introduce this dish to domestic and foreign tourists in the capital.
According to Hoang Hoai/ Dan Viet ( http://www.baovinhlong.com.vn/mon-ngon/202111/com-ga-hoi-an-dac-san-tru-danh-cua-pho-hoi-xu-quang-3090538/#.YcQ1iGBBy3A )
Visitors can find the following delicious Hoi An Chicken Rice restaurants:
1. Hoi An Chicken Rice
Address: 47/2 Tran Hung Dao, Hoi An City
Reference price: 20,000 - 50,000 VND
Opening hours: 09:00 – 22:30
2 . Ba Nga Chicken Rice
Address: 8 Phan Chau Trinh, Hoi An City
Reference price: 30,000 - 50,000 VND
Opening hours: 09:00 – 21:30
3. Chicken Ty Rice
Address: 27 Phan Chau Trinh , Hoi An City
Reference price: 30,000 - 44,000 VND
Opening hours: 09:00 – 21:30
4. Ba Buoi Chicken Rice
Address: 22 Phan Chau Trinh , Hoi An City
Reference price: 20,000 - 45,000 VND
Opening hours: 09:00 – 21:30
5. Huong Chicken Rice- Kiet Sica
Address: 56 Le Loi, Hoi An City
Reference price: 25,000 - 50,000 VND
Opening hours: 09:00 – 21:30
6. Ba Thuan Chicken Rice
Address: 17/4 Hai Ba Trung , Hoi An City
Reference price: 20,000 - 45,000 VND
Opening hours: 09:00 – 22:30
7. Long Chicken Rice Restaurant
Address: 53/16 Phan Chau Trinh , Hoi An City
Reference price: 20,000 - 45,000 VND
Opening hours: 09:00 – 21:30
8. Ba Lam Chicken Rice
Address: Alley 51 Phan Chau Trinh, Hoi An City
Reference price: 30,000 - 50,000 VND
Opening hours: 09:00 – 22:30
9. Tho Chicken Rice Restaurant
Address: 190 Ly Thuong Kiet , Hoi An City
Reference price: 30,000 - 40,000 VND
Opening hours: 09:00 – 21:30